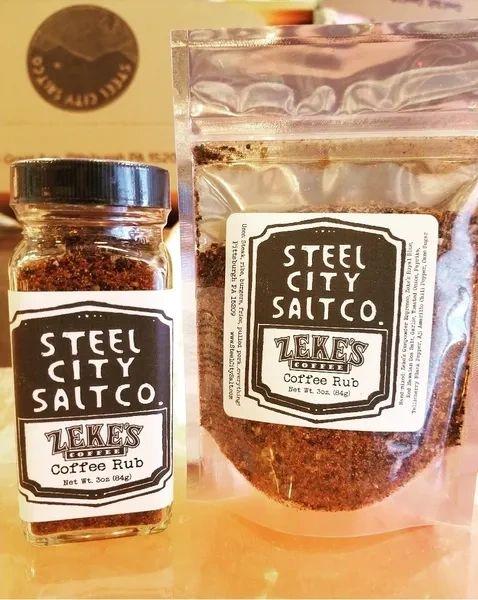 Steel City Salt Company
ZEKE's Coffee Rub
IT'S HERE!!!!!!!!!!!!!!!!
Every once in a while the stars align and a local collaboration between two Pittsburgh favorites is born! In search of the perfect coffee rub, we spent a lot of time on R&D teaming up with ZEKE'S Coffee and mixing hundreds of combinations of their famous coffee with our freshly ground spices and salt until we came up with an awesome blend that was totally mouthwatering!
We use two of their different coffees; the Gunpowder Espresso for a super dark/nutty flavor and their Royal Blue, a somewhat dark but very smooth coffee blend.
What makes this rub amazing is the Red Hawaiian Sea Salt as a base, the high iron content works great for breaking down meat and acting as a marinade along with the medley of freshly ground spices. We know you'll enjoy this rub just as much as we do!
 Use this flavorful rub for anything on the grill or in the oven! Our favorite is on steak, wings, brisket, pulled pork, chicken, hearty veggies, and of course the Impossible Burger but feel free to sprinkle on everything!
 Ingredients: ZEKE'S Gunpowder Espresso, ZEKE'S Royal Blue, Red Hawaiian Sea Salt, Garlic, Toasted Onion, Paprika, Tellicherry Black Pepper, Aji Amarillo Chili, Cane Sugar, Spices
 Made in the USA
Zeke's rub best rub
Definitely my favorite dry rub ever, though everything Steel City makes is amazing
STEEL CITY IS THE BEST!
Steel City Salt is THE BEST! been using it for years every since we met John in Pittsburgh. We not only use it at home but also when I compete making Pizza, Ribs, Burgers, etc. IT'S THE GOOD STUFF!!!
Outstanding on beef, one of our go-tos
This is my favorite way to enhance steak, hamburgers, and similar beef dishes. We always have it in the spice cabinet.
What a difference!
As soon as my husband smelled your Tellicherry peppercorns, he threw away the peppercorns we had. What a difference in smell and taste. Great job!
Excellent, as always
We love the Zeke's coffee rub in our house and use it regularly on any kind of meat, veggies, potatoes, even scrambled eggs. The coffee flavor adds a nice earthy, roasted note without being overwhelming and it is balanced well by the other spices.
We love Steel City Sat Company and almost exclusively use their salts and seasoning blends in our house. Top quality products and customer service!