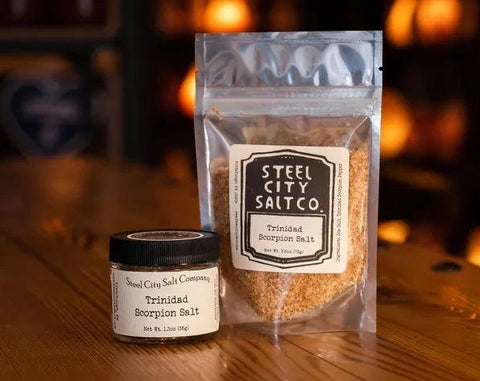 Steel City Salt Company
Trinidad Scorpion Salt
Hot Hot Hot!!!! Currently the 2nd hottest pepper in the world, the famous Trinidad Scorpion Pepper has great flavor and lots of heat.
Real Trinidad Scorpion Peppers are carefuly blended with Pacific Flake Salt, with a flavor profile that has a fruity flavor to start and deep heat to finish.....definitely for those that can't get enough heat, use sparingly!
Uses: Great as a tabletop salt to add on top of your favorite meals; eggs, steak, salads, chili, soups, stews, cocktails, popcorn, and anything you want that extra kick for!
Ingredients: Sea Salt, Trinidad Scorpion Pepper
Made in the USA
Celebration of flavor!
Absolute celebration of flavors! Made wings that were over the top hot but amazing addicting flavor!
Love it!
Excellent blend. Perfect combination. Just the right mix of salt and heat.
Trying something new!
Recently found out about Steel City Salt and purchased several items including Fleur de Sel. I'm no gourmet but this gives what I make a nice finish and makes it just a little bit special.
A great gift for pepper lover
We haven't actually tried it. It is a gift for my son. He loves hot peppers. I'm sure it is great. I was very impressed with the detail in the wrapping of the different salts. Nice touch