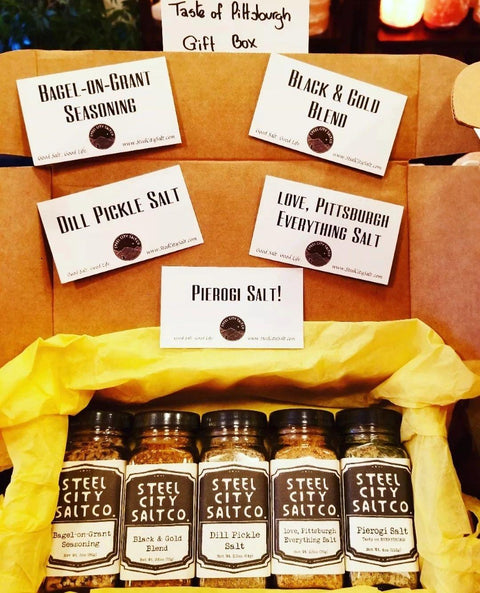 Steel City Salt Company
Taste of Pittsburgh Gift Box
$49.95
$52.95
you save $3.00
Our Taste of Pittsburgh Gift Box is OFFICIALLY here!!! We are so excited to introduce the fabulous gift box that has the flavors of Pittsburgh all in one place.
Each gift box comes with yellow tissue paper and is hand packed with love!
Included in the gift box are:
Bagel-on-Grant Seasoning: This is our version of the Everything Bagel and one of our most requested items! Made right here at our saltshop and HQ on Grant Ave, this is where the Bagel-on-Grant gets it's name from. Hand-mixed with crunchy Pink Himalayan Salt, Roasted Garlic, Toasted Onion, three types of Sesame, and Poppy, this blend is truly next-level!
Use on bagels, avocado, eggs, salmon, stir-fry, pretzels, in dips, or on our favorite...toast with cream cheese!
Black & Gold Blend: One of our BEST SELLERS and our most famous blend! Named after the colors of our home teams here in PIttsburgh, this is the perfect blend for cookouts, tailgates, or anytime you fire-up that grill! The flavor profile is smoky & sweet with a hint of citrus, this one is considered our all-purpose BBQ blend.
Uses: Anything grilled or roasted, burgers, ribs, pulled pork, steaks, chicken, hearty veggies...our favorite is on fries and wings!
Dill Pickle Salt: In Pittsburgh, Pickles are serious business and we are so happy to have made this mouth-watering Dill Pickle Salt which has taken our company by storm! Dilly, tart, and SUPER flavorful, we know you'll be reaching for the bottle every time you have fries in front of you:)
Uses: French Fries and popcorn are a MUST! Also great on salmon, eggs, any type of potato, or mix with sour cream for an AMAZING dip!
love, Pittsburgh Everything Salt:  We teamed up with love, Pittsburgh Shop here in the Burgh for the fabulous and tasty salt blend which as the name says...can be used on EVERYTHING! Made with Trapani Sicilian Sea Salt, Bell Pepper for sweetness, Roasted Garlic, Toasted Onion, Hungarian Paprika, Black Pepper, and super premium freshly ground spices....when we say this blend has LOTS of flavor, we mean it!
Uses: Literally on EVERYTHING! But our favorites are on fries, pierogi, chicken, shrimp, in dips, or just sprinkled onto your hand because it's THAT good:)
Pierogi Salt:  In Pittsburgh we're ALL about pierogi! This AMAZING salt blend is packed with flavor; crunchy sea salt as a base, roasted garlic, toasted onion, chive, dill, and freshly ground spices, this blend brings us back into Grandma Flo's kitchen where polka and LOTS of love were always in the air!
Use on Pierogi (of course)! Also tasty on potatoes cooked any way; fried, roasted, mashed, scalloped...literally ANY type of potato! Try on salmon, chicken, haluski, stuffed cabbage, eggs, and in sour cream for a dip!