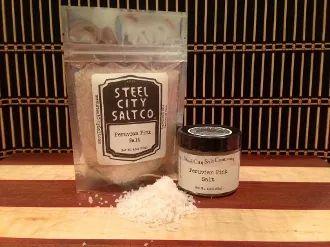 Steel City Salt Company
Peruvian Pink Salt
Peruvian Pink Salt  is a beautiful hand-harvested salt that comes from Spring Water high up in the Maras region of the Andes mountain range!
The brine spring water flows from deep within the mountain into small family owned salt ponds, thousands of them, on the cliff-sides which are then sun-dried producing the beautiful and crunchy salt.
Milder than regular sea salt, this Spring Salt has a coarse but uneven texture that is perfect for finishing and a mellow taste that will enhance every meal! This salt has been harvested the same way since pre-Incan times!
Uses: Perfect for seasoning fish, potatoes, veggies, desserts, and meats. Use it as a finishing salt to really enhance the flavor and texture of whatever you're cooking!
Atop sweets an desserts it a must, we also made some of the best steak in our lives with just this salt and Tellicherry Peppercorns!
Ingredients: Salt
Product of Peru
A great gift for pepper lover
We haven't actually tried it. It is a gift for my son. He loves hot peppers. I'm sure it is great. I was very impressed with the detail in the wrapping of the different salts. Nice touch
Trinidad salt
Love it! Great flavor and lots of zest.
So good I bought it for a friend
This particular purchase was a gift for a friend who also likes their food on the spicier side of things, bought because I got it for myself. Amazing balance of heat and flavor, the flavor profile is similar to Tabasco with a significant bite from the heat. Not so spicy as to be unbearable, but be sure to try a small amount first. Fantastic product overall.