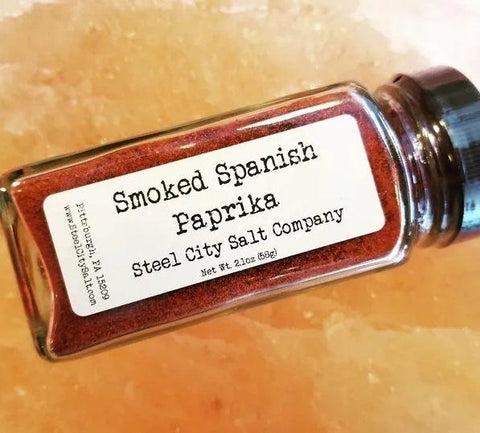 Steel City Salt Company
Paprika Spanish Smoked
Smoked Spanish Paprika is sweet and prized by chefs around the world for it's stunning color and smoky flavor!
Also called Pimenton de la Vera Dulce, it is made by drying sweet red peppers in an oak-fired oven and ground to a fine powder. No artificial ingredients are used in our Spanish Smoked Paprika which means the flavor is super bold and a little goes a long way!
Use in your favorite meat rubs & marinades, atop devilled eggs, roasted veggies, grilled chicken, rice, beans, pork, soups, and stews.
Ingredients: Smoked Spanish Paprika
Product of Spain
 *As with all herbs & freshly ground spices, keep out of direct sunlight and heat, natural color may change or fade.
Everything I have ever purchased
Everything I have ever purchased from Steel City Salt Co has been fabulous - I love all their products and highly recommend all of them!
Best paprika ever
Paprika has long been a favorite spice of mine, I use it in most dishes. I have to say, this Spanish Smoked Paprika is truly the best one I've ever tried, and I have tried all the brands out there. You won't be disappointed with this one. The sweet paprika is also amazing!
Smoky, with a hint of
Smoky, with a hint of tang. Excellent on...everything! Enhanced my cream of mushroom soup.