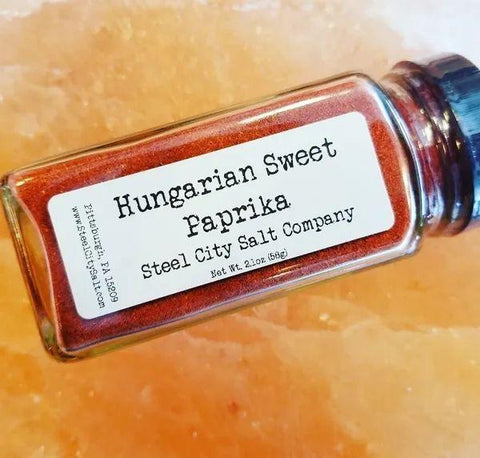 Steel City Salt Company
Paprika Hungarian Sweet
Hungarian Sweet Paprika is a staple in Hungarian cooking and is used in many classic American dishes and rubs!
Sweet with a brilliant red color and no heat, this Paprika is an addition every kitchen needs. Whether you're making goulash, chicken paprikash, or any type of rice, stew, or meat, our Hungarian Sweet Paprika will do the trick!
Uses: Goulash, Chicken Paprikash, devilled eggs, rice, beans, in rubs and marinades, roasted veggies, in dressing, and on fish.
Ingredients: Hungarian Sweet Paprika
*As with all herbs & freshly ground spices, keep out of sunlight and heat, natural color may change or fade.
Fresh!
I love the freshness of these spices.
Good stuff
I lived in Pittsburgh for three years, but moved to Philadelphia about three years ago. The fact that I still order Steel City Salt, or visit its stand in the Strip District whenever I visit the area should tell you all you need to know about how great the products are. Fast shipping too, even across state. First time I got the spices, and the paprika was as good as I've gotten at higher-end places for a more reasonable price.
It was stupendous!
I was first introduced to Hungarian sweet paprika back in the mid 90's . My father bought it and brewed the BEST Hungarian goulash ever. Since then, it's a beloved staple but often elusive and difficult to find. I live in a small rural area and when I find the spice I usually double up on it. Recently, however, the grocery store that carried the spice (I believe it was szeged brand) closed. Even with careful rationing, I ran out. (long story short I was a sad donkey) Then one day while parusing your site, low and behold! Hungarian sweet paprika! I knew your brand was solid since all the other products I've ordered from you (LOVE your smoked alderwood salt, btw) have been of the best taste and quality. Your paprika, thankfully, didn't disappoint! I'm ecstatic that I now know where to get a consistent supply of this spice and from a reputable dealer. I used it just the other day...it was Delish! THANK YOU!