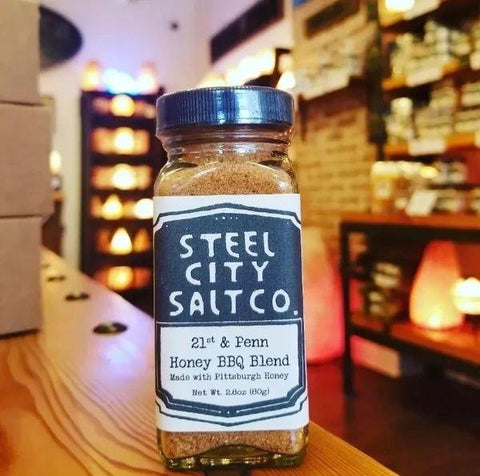 Steel City Salt Company
NEW! 21st & Penn Honey BBQ Blend
$9.95
$10.95
you save $1.00
We are so happy to finally release our NEW 21st & Penn Honey BBQ Blend, made with local honey from our friends at Pittsburgh Honey!!!
Our salt business began on the corner of 21st & Penn Ave. in the foodie capital of Pittsburgh, the Historic Strip District (where we still set up every weekend)!
With so many sights, sounds, smells, and most importantly FLAVORS, we wanted to pay homage and celebrate our original location where we got our start.

Teaming up with Pittsburgh Honey, we went all-out for this amazing flavor-bomb of a blend. Sweet, salty, tangy, and incredibly flavorful, this is the perfect blend for using on the grill & BBQ, cooking out, and for adding to just about anything for that oh-so-delicious BBQ taste....your taste buds will be happy:)
Uses: Ribs, burgers, chicken (wings are our favorite), salmon, brisket, pulled pork, fries, seafood, corn (YUM), homemade chips, and anything on the grill!!!
Hand-mixed from: PGH Honey Local Honey Powder, Sicilian Sea Salt, Garlic, Hungarian Sweet Paprika, Toasted Onion, Black Pepper, Smoked Paprika, Mustard, Spices
Amazing!
Awesome business to order from, high quality salts and seasonings that are absolutely amazing. Ive tried a good few of them so far and make alot with them. Couldnt ask for better!
Another Tasty Blend
Another tasty blend from Steel City Salt! The right balance of sweet and savory. It was delicious on chicken; I can't wait to try it on potatoes, vegetables and other meats! After one use I bought more for myself and also as a gift.
Steel City Salt is an awesome local company. Support them!
Every single product I buy from Steel City Salt is amazing... that's why I keep coming back... that and the wonderful way John and everyone there treats me. I've been spreading the word, too.
Next level popcorn topper
A perfectly balanced blend of cheese and herbs--the paprika and smoked salt really make the cheese flavor pop (sorry for the pun). Hope you bring this back soon!