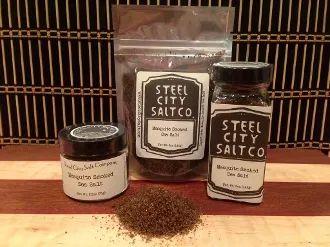 Steel City Salt Company
Mesquite Smoked Sea Salt
BACK IN STOCK!!!!!!!
Our Mesquite Smoked Sea Salt is our boldest smoked salt yet! Fine grain Pacific Sea Salt is cold smoked over real Mesquite wood, the official smoke flavor of Texas Barbecue.
This is a very hearty smoked salt in which a little goes a very long way and will compliment any meat or veggie that you want to add an authentic smokiness to! The grain size is small so it works perfectly as a rub base, especially for longer cooking cuts of meat!
Try it on any type of grilled meats (Brisket, shoulder, beer-can chicken, ribs, etc) or veggies!
Mix with your favorite spices for a custom BBQ rub, or use as a standalone salt to add real authentic, hearty smoke to anything you are cooking!
Ingredients: Mesquite Smoked Sea Salt
Made in the USA
It's damn delicious on fruit - apples, watermelon, pears, and tomatoes. They also have habernero sugar is also a great option on oatmeal. If you're ever in Pittsburgh, stop by the shop.
A party in your mouth!
Excellent! A couple of years ago, SCS was set up outside on Penn Ave and we bought the Black Truffle salt - AMAZING!!! Today I received my very well packaged delivery of Lemon Lime, Lavender Rosemary, Mesquite Smoked, Dill Pickle and Black Hawaiian. We already sampled them all and they are INCREDIBLE!
Giving the product to a
Giving the product to a relative for Christmas.
Mesquite Smoked Sea Salt
This! Great on a steak...slather your favoraite steak with butter and this salt and throw it on the grill! You'll be glad you did!
OR baste a pork loin with it and put it in your InstantPot!