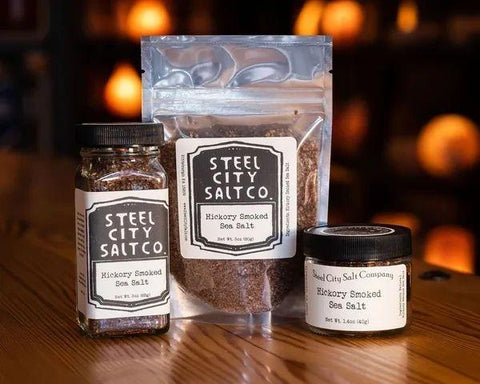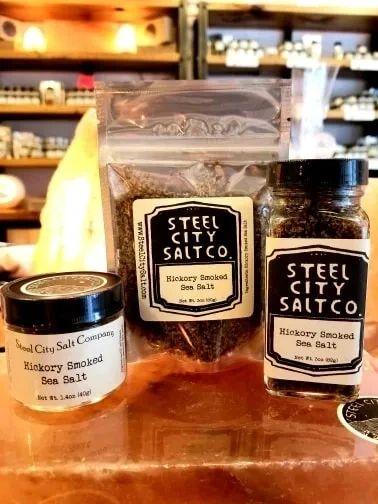 Steel City Salt Company
Hickory Smoked Sea Salt
Beautiful Flake Sea Salt smoked over real Hickory gives this salt a wonderful texture, taste, and aroma!
Our Hickory Smoked Sea Salt is a wonderful melt-in-your-mouth all purpose smoked salt. With a rich taste and virtually no bite, this salt is great for grilling, roasting, and used as a table salt.
Uses: Grilled, roasted, or pan-fried; chicken, fish, vegetables, and beef. Also try on avocado, eggs, asparagus, peanut butter cookies, chocolate ice cream, and anything you want to add a little smokiness to!
Simple Steak Rub : Hickory smoked salt, Garlic Powder, and Cane Sugar. Equal parts rubbed on a steak lightly oiled and grilled to perfection!
Ingredients: Naturally Smoked Sea Salt
Made in the USA
Soooo good!
This smoked sea salt is so great! I use it on everything and even sprinkle it on top of my morning latte! :coffee:️
You need to buy this!
I couldn't be more obsessed - it's my most frequent order. Veggies, burgers, chicken, shrimpies - you won't regret putting it on anything
Authentic hickory smoked flavor
I received a sample of this last christmas. I found myself using it more and more. I started off grilling with it a little bit at a time and increased until it was my likeness. I now use it just about every time I grill.
Always a pleasure to buy
Always a pleasure to buy from them and local.