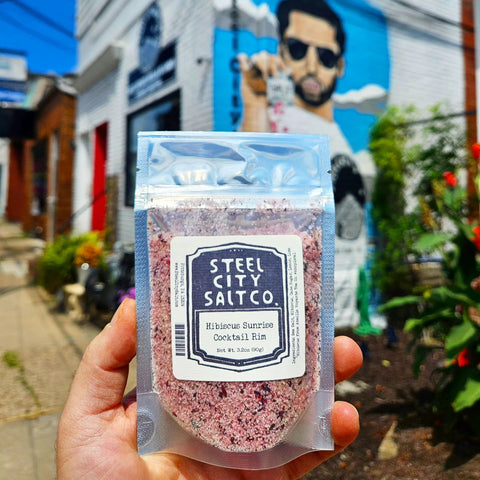 Steel City Salt Company
Hibiscus Sunrise Cocktail Rim! *Limited Batch
$7.95
$8.95
you save $1.00
FINALLY!!!! Our Hibiscus Sunrise Cocktail Rim is here and it's a gamechanger for cocktails!
Initially developed for a cocktail program, this sweet & salty blend has taken our company by storm and is one of the most requested items for general sale!
Using Hibiscus from our friends and Millvale neighbors Abeille Voyante Tea Co. we hand blended the tangy and floral hibiscus with pure sea salt, organic cane sugar, lime, and lemon for a bold flavor that will make your mouth pucker:)
*Right now we only make the pouch bags, in the future we will start to do jars!
Uses: Absolutely ideal for rimming margaritas, mojitos, mocktails, lemonade, iced tea, and on top of cookies, cakes, and fresh fruit (Pineapple and watermelon are our FAVE!).
Ingredients: Organic Cane Sugar, Sea Salt, Hibiscus, Lime, Lemon

Made in USA