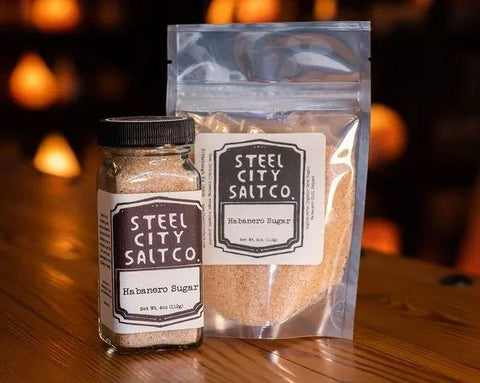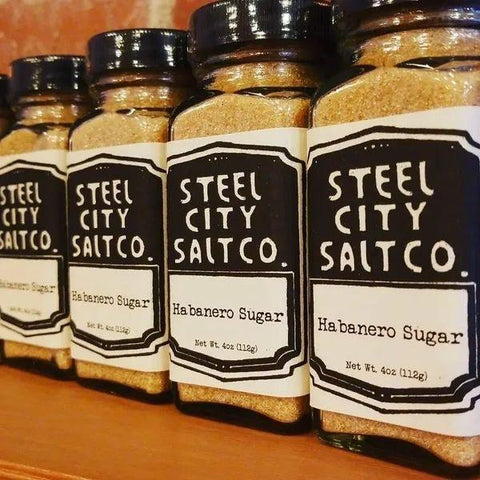 Steel City Salt Company
Habanero Sugar
This one started out for a bar program of a high-end cocktail menu...and after literally HUNDREDS of emails and calls, we made it a regular item!!!
The infamous Habanero Chili Pepper is blended with Organic Cane Sugar making this a super flavorful and spicy sugar blend!
Hotter than our Habanero Salt, the natural fruitiness of the pepper along with the accompanying heat compliments and melds perfectly with the sweetness of the sugar making it the perfect match.
Your taste buds will jump and be happy all while warming you up so try it out for cocktails, grilling, and your sweet & spicy needs!
Uses: Awesome as a cocktail rimmer or made into a simple syrup! Also great as a meat rub, especially wings...high heat will caramelize the sugar leaving spicy goodness behind:) Top sweets, fruits (pineapple OMG YUM), and desserts for take the sweet heat even further!
Ingredients: Cane Sugar, Habanero Chili Pepper
Great Spice
Makes things very tasty without the bother of chopping an onion.There isn't a Steel City Spice that I don't like.
Great flavor, lots of heat
This sugar ended up being hotter than I expected even with it being habenero sugar (but that works for me), and the flavor is great. Only added it to sautÃ:copyright:ed peppers/onions and a wing sauce glaze so far, but I'll be trying it on plenty more things. Would definitely recommend playing around with this
Addicting
Received this as a sample with an order my husband placed for some salts. Not one for spicy, but let me tell you, add this to the top of whip cream on of a specialty drink and you will be hooked!! I'll be adding this to my next order. Thank you Steel City Salt!
Talk about spiking a drink!
Love to rim my drinks with this sugar! Can get enough of this sugar because I looooove spicy! Sugar and spicy best combo ever!!!