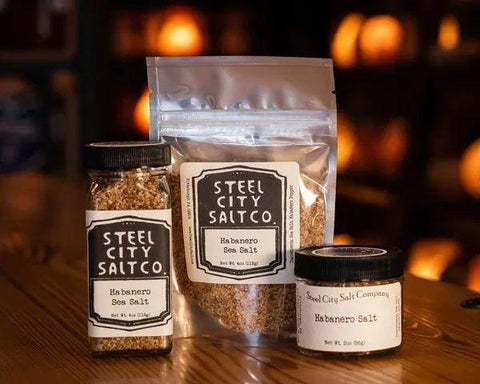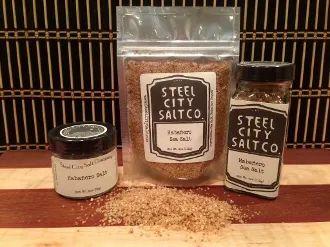 Steel City Salt Company
Habanero Sea Salt
Definitely the heat-lovers salt!!!
Fresh roasted habanero peppers combined with crunchy sea salt gives the perfect combination of flavor, heat and salt. By roasting the peppers down, the true flavor of the Habanero comes through, and with it's distinct fruity-sweetness, the flavor profile works well on just about every dish!
Great on anything that needs an extra kick of heat, especially any meal that calls for lime and butter. Also super tasty for finishing, roasted vegetables, popcorn, meats, seafood, fried-foods...the possibilities are endless!
Ingredients: Sea salt, Roasted Habanero pepper
Made in the USA
One of my family's favorites!
One of my family's favorites! Always have it in the house!
It'll knock your socks :socks: off good!
We love the tasty heat from this one!! Chicken, pork, veges.....yum!
Best ever
This is a staple in my family's kitchen, and I have gotten many people hooked on this awesome spicy salt - we literally use it daily and put it on everything. Please don't ever stop making this!
The best!
I've been using this salt for over 2 years now (practically on a daily basis) - it is literally the best! It has a great spicy kick (as you would expect) but it is also really flavorful and not just hot. I honestly use it on anything and everything - grilled/roasted vegetables and meats, pizza, soup, mac & cheese, etc...I really don't know what I would do without it! Not to mention, I love supporting a local/small business that is putting out awesome products - I have a whole drawer designated for Steel City salts! Thanks!