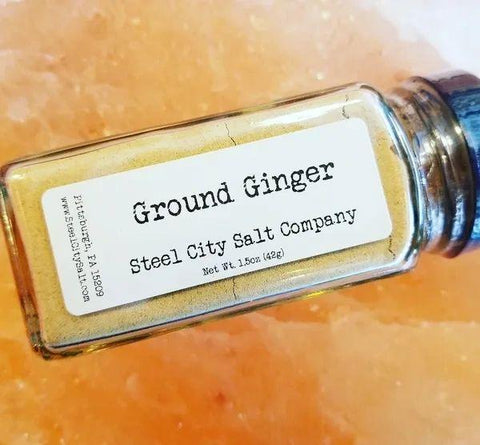 Steel City Salt Company
Ginger Ground
Ginger has a long history in the culinary world and is cultivated all over the globe but is native to Southeast Asia where the best ginger comes from!
Our ginger is ground in small batches making it super fresh and flavorful, its spicy and rich flavor makes it one of the worlds most popular spices!
Used in so many dishes, from stir-fry to baked good, experiment with your favorite foods and add a touch to change it up a bit:)
Uses: Stir-fry, cookies, ice cream, baked good, tea, in rubs and marinades, cakes, roasted chicken, and sautéed veggies.
Ingredients: Ginger
*As with all herbs & freshly ground spices, keep out of sunlight and heat, natural color may change or fade.
I just unpacked it and
I just unpacked it and haven't used it yet. But I'm sure it'll be great!
Love Steel City!
Good, flavorful ginger, and Steel City is great to order from! Everything arrives super-quickly!
A must-have
Always have an extra bottle of this in my spice stash!