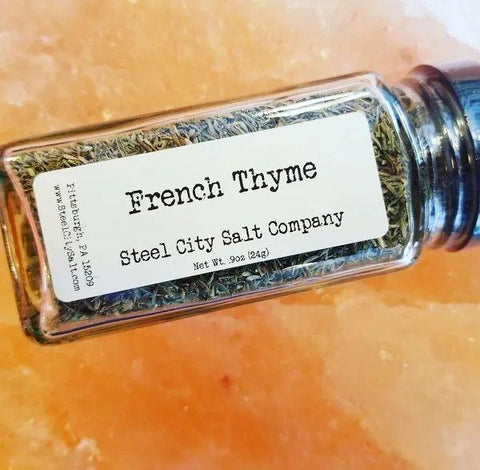 Steel City Salt Company
French Thyme
French Thyme is the highest grade of Thyme in the world!
Highly versatile and pungent, this herb is used to bring so many dishes to life, you'll find yourself reaching for it more and more with every use!
With a very classic flavor, Thyme holds up nicely to longer cooking times making it ideal in soups, stews, pot roasts, and marinades. Boasting a fresh, almost lemony flavor, a little goes a long way so start off with just a pinch!
Uses: Eggs, soups, stews, pot roast, hearty roasted veggies; carrots, beets, potatoes, parsnips, ect. Make a rack of lamb or use on roasted chicken with lemon and butter!
Ingredients: Thyme 
Product of France
*As with all herbs & freshly ground spices, keep out of sunlight and heat, natural color may change or fade.
Made my Thanksgiving!
What a wonderful addition to my stuffing and other sides!
LOVE when this is in stock!
We LOVE Matcha at our house and stock up whenever this is available! Great products all around, thank you Steel City Salt!
Christmas presents
They are mostly Christmas presents but the lemon lime salt is super!
Consistently excellent product
I gave this salt as a gift as it looked interesting to me. Every product I've bought from this company has been excellent, so I expect no less from this one.