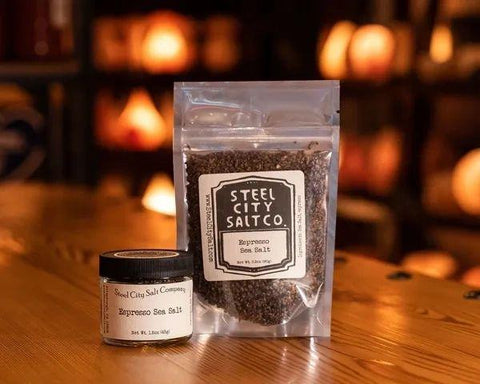 Steel City Salt Company
Espresso Salt
Our Espresso Sea Salt is a wonderfully flavorful and multi-use salt made with real espresso beans, brewed espresso, and crunchy Pacific Sea Salt, definitely a crowd pleaser!
The depth and smoothness of this salt makes it essential for topping any baked goods or sweets. Also, if you're the avid griller, Espresso Sea Salt on red meats, chicken, and veggies on a hot grill will turn any meal from good to great!
Uses: Great on top of ice cream, cookies, brownies, and cakes. Also essential for grilling; steaks, chicken breast, asparagus, and pork tenderloin.
*Because of the small batch process with natural ingredients, we do not use anti-caking agents so if this amazing salt sticks/cakes up on you when it's very humid, don't worry! As with every salt that clumps when it is humid, you can put it in the fridge to cool it down (won't stick as much) and/or swirl it around with a fork!
Ingredients: Pacific Sea Salt, Espresso Beans
Great flavor, love the espresso salt for steaks and topping pb cookies
Go-To Steak Rub
Just love this rub on steaks! & so do our guests! Makes a great gift (along with other Steel City Salt products)!
Highly recommend
So good had to order more! Could not wait till my next visit to Pittsburgh
Yummy!
Delicious! Had this on steak tonight and it was amazing!