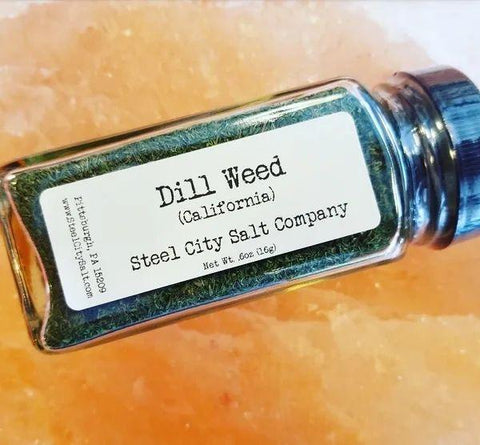 Steel City Salt Company
Dill Weed
Our Dill Weed is the finest domestically produced available coming from California!
Far superior to imported Dill Weed, the Californian variety contains a higher oil content along with a brilliant color making it a MUST for the Dill lover:)
Used in many dishes worldwide for exceptional flavor, this Dill is a base in our famous Dill Pickle Salt!
Uses: On salads and as a garnish, in soups, marinades, dips (yogurt, cream cheese, sour cream), salmon with butter, whitefish, sautéed chicken, roasted veggies, and lamb!
Ingredients: Dill Weed
Product of California, USA
*As with all herbs & freshly ground spices, keep out of sunlight and heat, natural color may change or fade.
Steel City Pride
I love this gift set. It is practical to give as a gift and has the most basic yet exceptional flavors of salt, all at a non-committal, perfect, size.
Wonderful gifts!
Purchased several of these gifts sets for friends and everyone loved them. Still hearing from them when they try different recipes using the salts. Also appreciate the quick response to have them ready the next day and nice packaging. Thanx.
Gift for a chef
I have been buying Steel City Salt for years. A chef friend of mine commented on how much he likes my salt so this was a gift box for him. He loves it!