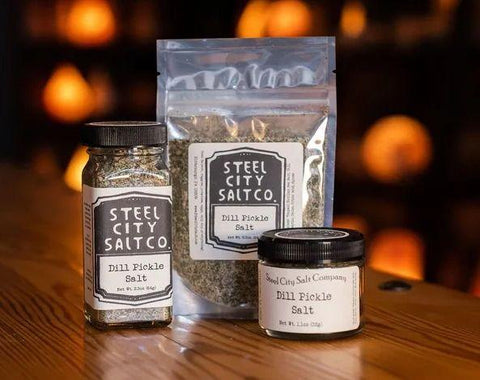 Steel City Salt Company
Dill Pickle Salt
Dill fans rejoice!!!
Our Dill Pickle Salt is here and it is AWESOME and totally addicting!
Trapani Sicilian Sea Salt is hand mixed with dill, garlic, onion, and spices making this a tangy-dilly salt blend that so incredibly versatile and tasty you may just want to eat it straight out of the jar!
Mix 1TB Dill Pickle Salt with 1cup sour cream or yogurt for a fantastic chip/veggie dip!
Use on: Salmon, French fries, shrimp, popcorn, eggs, any type of veggie, corn on the cob, burgers, as a Bloody Mary rimmer...we have yet to find something this doesn't work well on!
Ingredients: Trapani Sicilian Sea Salt, Dill, Garlic, Onion, Citric Acid, Spices
FANTASTIC!
Excellent! A couple of years ago, SCS was set up outside on Penn Ave and we bought the Black Truffle salt - AMAZING!!! Today I received my very well packaged delivery of Lemon Lime, Lavender Rosemary, Mesquite Smoked, Dill Pickle and Black Hawaiian. We already sampled them all and they are INCREDIBLE!
It's a HIT …. On
It's a HIT …. On EVERYTHING!! Makes a GREAT gift !!!
Great on V8
I love this blend. Puts an extra kick in my V8.
Love your dill pickle salt
Great service. We use your dill pickle salt all the time…love it.