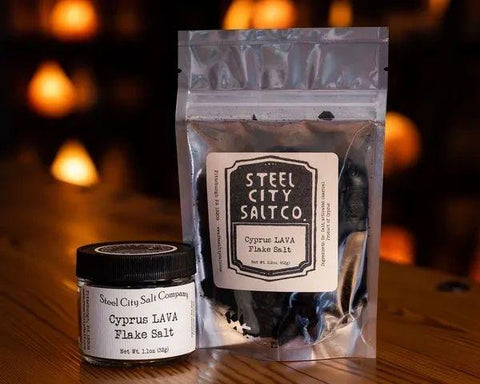 Steel City Salt Company
Cyprus LAVA Salt
Cyprus LAVA Salt is here!!!!
A very rare salt, these stunning hand-harvested salt crystals come from the beautiful island of Cyprus in the Mediterranean!
These large, pyramid shaped salt crystals are infused with activated charcoal upon harvest making this some of the worlds most beautiful salt to date!
The charcoal mellows out the salt making it perfect for finishing your favorite dishes adding a nice crunch and stunning color!
Try this fabulous salt on top of: Caramels, chocolate, cookies, ice cream, roasted veggies, steak, salmon, shrimp, cocktails, salads, fresh tomatoes, and anything you want to add beautiful color and texture to!
Ingredients: Sea Salt, activated charcoal
Product of Cyprus