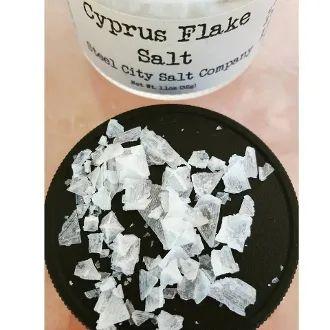 Steel City Salt Company
Cyprus Flake Salt
OMG this is our most BEAUTIFUL Salt!!! Hand-harvested on the island of Cyprus in the Eastern Mediterranean Sea, these flakes are stunning!
Uniquely delicate large pyramid-shaped salt crystals are formed when sea-water is channeled into shallow pans and slowly heated to evaporate.
You will not find a more beautiful salt out there!
Perfect as a finishing salt on desserts; chocolate, caramels, brownies, sorbet, gelato, etc. as well as on roasted veggies, squash, pasta, fruits, grilled red meat, salmon, and anything that needs a touch of salt that you'd like to name presentable.
Ingredients: Sea salt
Product of Cyprus
WOW!
Just received this salt and am in love with the texture! Not quite a large pyramid but more of a crunchy salt. We use this on our baked goods at the house. Can't wait to try on fish!
Explodes In Your Mouth!
Never had anything like this salt before. Gonna reorder soon!
Love it!
Steel City Salts' salts and seasonings are my favorite as a mainstay and as gourmet gifts for loved ones! Always fantastic flavor and service.
Salt review.
It is excellent. Just what we wanted.
Best for cookies and desserts
The beauty of this salt is amazing. Great for finishing anything that you want the salt to look pretty