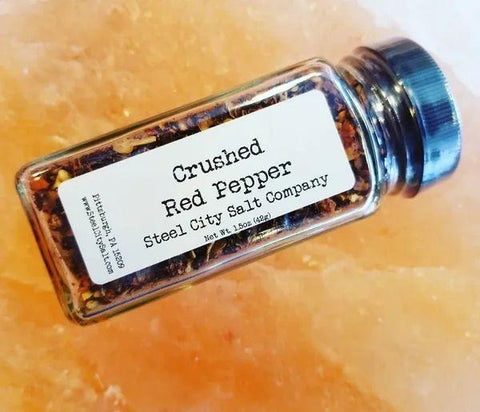 Steel City Salt Company
Crushed Red Pepper Flakes
Our Crushed Red Pepper Flakes are a MUST for every kitchen! Used also on tables in pizza shops, these Crushed Red Pepper Flakes are mild-medium on the heat scale adding just the right amount of mellow heat with lots of flavor. We tend to use this on just about everything we cook!
Uses: On top of pasta, pizza, in pickles, cheese dips, meat rubs, roasted veggies, soups, eggs, marinades, on EVERYTHING!
Ingredients: Crushed Red Pepper
*As with all herbs & freshly ground spices, keep out of sunlight and heat, natural color may change or fade.
The BEST CUSTOMER SERVICE EVER!
The BEST CUSTOMER SERVICE EVER! Love there're products... we live in Ohio but drive to Pittsburgh because there're spices really are that good !
Best Spices
Their spices are very tasty, well priced and they have GREAT customer service.
Sold on Steel City
I am enjoying the diversity of flavors in the gift set. My cooking has become more creative and my dishes have taken on bright nuances.
I absolutely love my salts!!!
Happy Recipient
Sent this as a gift and the recipient said the packaging was so nice that they hated to open the box! They have "had a blast" trying them all out!
customer
Excellent product!!! Every one of these products are a hit. Also customer service is outstanding. Unlike no other. Highly recommend all their products.