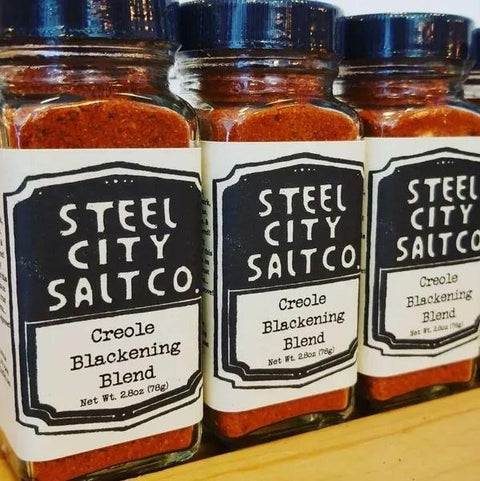 Steel City Salt Company
Creole Blackening Blend
This classic Southern Creole Blackening Blend that has a lot of depth, flavor, and heat!
In our travels throughout the South we learned about and fell in love with blackening and using different spices to perfect that sought after flavor-crust that forms when searing on high heat.  We made this blend as an expression of our love for Creole and Cajun cooking!
Whether you are blackening or just using as a rub base, we know your taste buds will enjoy!
To Blacken: Mix melted butter or oil and our Creole Blackening Blend in a small bowl. Coat fish, chicken, or desired piece of meat with the butter/Creole mixture. Heat pan, preferably cast iron skillet, to high heat. Let it get very hot! Add meat to the hot pan and sear a few minutes per side. Lots of smoke may appear, this is normal and part of the blackening process! Enjoy:)
Uses: Use for Blackening your favorite chicken, fish, shrimp, scallops, or meat. Also use as a rub for pork (we LOVE this on pork butt), wings, tuna, French fries, corn-on-the-cob, anything grilled...add to your all of your favorites for lots of flavor and some fiery heat!
*Don't be shy, you are not limited to just Blackening, use this on EVERYTHING!!!
Hand-mixed from: Red Hawaiian Sea Salt, Garlic, Onion, Hungarian Sweet Paprika, Cayenne Chili, French Thyme, Tellicherry Pepper, Chipotle, Oregano, Chili, Lime, Spices
Great!
Love this stuff! And they sent a hand written note with it. I will keep ordering from them in the future.
Perfect!!!
Great blend of spices for any meat!!! Especially on grilled fish!!!
Delicious Blend for Sauces and Dry rub
We love the blend! We use it as a dry rub on just about every meat that we grill, and we also add it to our grilled pepper, onion and mushroom pasta dish with chicken in a light tomato sauce.
Awesome stuff give it a try
Love it on chicken and turkey burgers. Great flavor