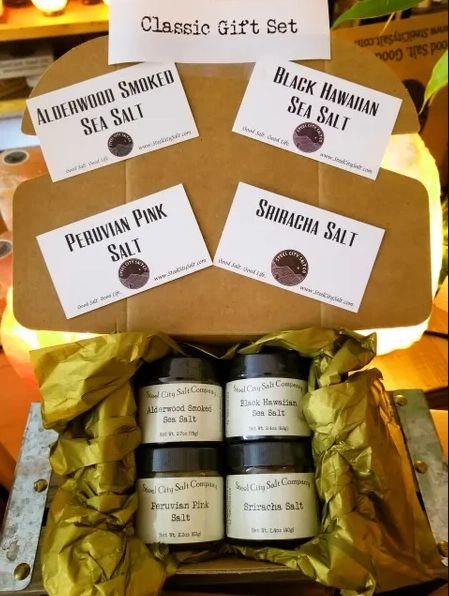 Steel City Salt Company
Classic Gift Set
Steel City Classic Gift Set: The best-of-the-best all in one! Smoky, Spicy, all purpose, and a beautiful finishing salts make this a one-stop-shop for a great gift! Includes lots of love and gold tissue paper.
Alderwood Smoked Sea Salt: Our first and most popular smoked salt, this slightly coarse grain Pacific Sea Salt is smoked for 48 hours over real Northwest Alder.
With a bold smokiness, you can use this on salmon, steak, chicken, hearty veggies, carrots, sweet potato fries, and peanut butter cookies!
Black Hawaiian Sea Salt: This beautiful jet-black salt is considered a delicacy in Hawaii and has been used for centuries and ceremonies and cooking!
When the sea salt is harvested, activated charcoal is adding giving the salt beautiful color and texture. Use this as a finishing salt...works especially well if you tend to over-salt (you can see how much you use!). Also great as a cocktail rimmer, avocado, sweets, desserts, chicken, and in marinades.
Peruvian Pink Salt: This unique salt is prized for its texture and mild salinity. Hand harvested over 10,000 feet up in the Andes mountains in family owned terraced ponds going back generations, this is one of the few brine spring water salts in the world!
With a coarse texture that melts in your mouth, use this salt as a finishing salt on pastas, pretzels, meat....especially steak, fries, salads, brownies, cookies, chocolate, and roasted veggies!
Sriracha Salt: This one started it all! Our first blend and one of our best sellers, the Sriracha Salt has a small flake-style grain that is tangy, sweet, and spicy. Use this one as an all purpose on EVERYTHING!
Our favorites to try it on are avocado toast, guacamole, homemade chips, chicken, eggs, margaritas, bloody marys, pizza, fries...you name it:)
Want a different set? Check out our Large DIY Gift Boxes!
Great Gift
What a wonderful gift set! The variety and tastes are amazing. So many options.