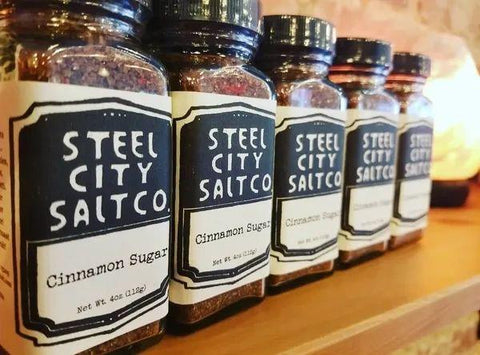 Steel City Salt Company
Cinnamon Sugar
Our Cinnamon Sugar is a wonderful addition to every kitchen!
Bold and flavorful, organic cane sugar is hand-blended with fresh ground Vietnamese Cinnamon; the most pungent and sought after cinnamon in the world prized by pastry chefs and confectionaries!
Take your food and pantry to the next level with this necessary upgrade....your taste buds will approve!
Uses: Use on classics such as toast, pancakes, cookies, brownies, chocolates, pies, and ice cream!
You can also use this sugar as a rub base on steak, pork, chicken, candied bacon, and hearty roasted veggies, anything on high heat the sugar will caramelize leaving crunchy goodness with the depth of the cinnamon. Also, try on your favorite cocktails...Horchata anyone?
Ingredients: Cane sugar, Vietnamese Cinnamon
wonderful in many ways
I absolutely love the crunch that accompanies eating this cinnamon suger! The crystals add a texture and sound and feeling that is superior to plain fine ground sugar & cinnamon. The cinnamon taste is delicious too
Great product!
Your product is great! Keep up the great work!
I love the crystals of
I love the crystals of sugar with the cinnamon. It adds a texture and audio crunch to things, increasing the sensory experience
Loving my order
I love my salts I got. I will be ordering again soon. The first thing I did was make cinnamon toast.