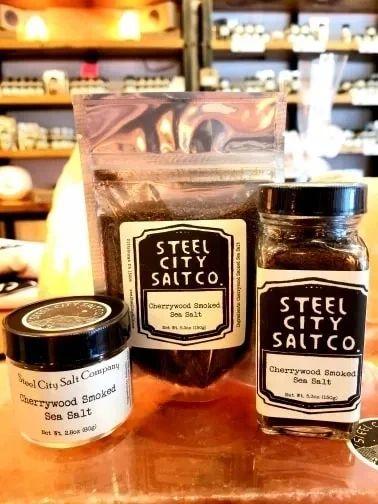 Steel City Salt Company
Cherrywood Smoked Sea Salt
As seen on the Today Show! 
Our SMOOTHEST Smoked Salt is here!!!
Fine grain Pacific Sea Salt is cold smoked over real Cherrywood for 36 hours making this our lightest smoked salt yet! Sweet & light, this smoked salt is prized by chefs for its ability to add flavor without any harshness!
Uses: Try it on your favorite grilled meats, porkchops, steaks, chicken, fish, shrimp, & corn. Also works great as a finishing salt atop your favorite sweets & desserts like chocolate brownies, cookies, and caramels!
Ingredients: Naturally Smoked Sea Salt
Love all these salts. Will make great holiday gifts.
Favorites
I've been a many times repeat customer for years. I always have the 3 smoked salts on hand at all times. The cherrywood smoked salt is more finer in size than the others & milder than hickory & alderwood. Alderwood is probably more smokey than the others & goes a long way YUM. Alderwood is like tasting a smokey campfire... Shipping is always fast, & the personal attention they provide is unlike any other. I have recommended to other neighbors & friends in multiple states & they also keep re-ordering. Our other favorites are the Peruvian & creole spices!!!
Great gifts (also always have them in the house)
These are my favorite things to both get and give as gifts. We always order 4 or 5 at a time and everyone is always super excited to get them. The smoked salts, especially, are just wonderful!
Delicious way to add that Dill flavor
One of my absolute favorites on everything - pasta, eggs, baked potatoes, roasted veggies, salmon, chicken salad - Just the right flavor every time!
Love your dill pickle salt
Great service. We use your dill pickle salt all the time…love it.