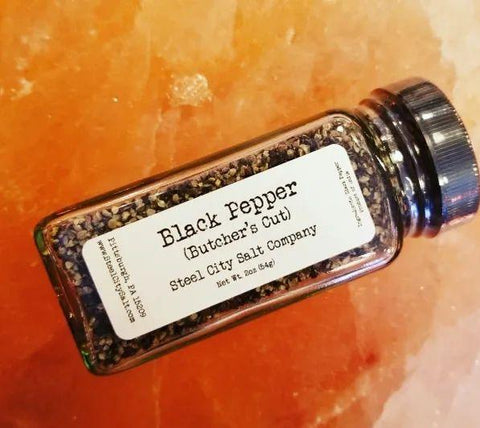 Steel City Salt Company
Butcher Cut Black Pepper
Extra coarse Butcher Cut Black Pepper is ground from super premium Tellicherry Peppercorns making this THE CHOICE for butchers, grillers, novice cooks, and on every meat application!
Coarse and crunchy with bold flavor, this black pepper is 8 mesh so it is small enough that it does not need to be ground but large enough for excellent texture. A little bit goes a long way since we grind this pepper in super small batches!
Uses on any type of meat or seafood, incorporate into rubs and marinades! Also great on top of breads, salads, and sprinkled on roasted veggies!
Ingredients: Black Pepper
Product of India