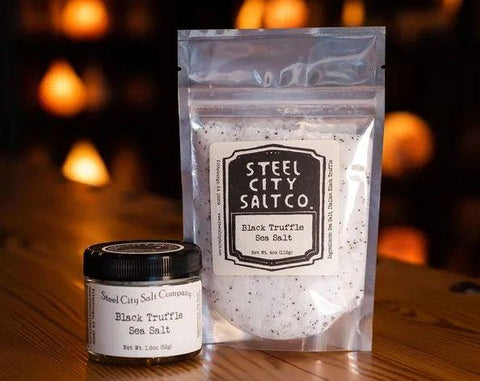 Steel City Salt Company
Black Truffle Sea Salt
OMG our Truffle Salt is AMAZING!!!
Definitely a household favorite, our all-natural Black Truffle Sea Salt combines the distinct and impeccable taste of Italian black truffles with hand-harvested Sea Salt to create an uncommonly super delicious flavor!
A creative cooks dream, our Black Truffle Sea Salt is used with the highest grade black truffles and adds a hint of earthy, mushroomy flavor to every dish. This is such an awesome salt, we always carry one with us when we eat out...the best to sprinkle on French fries:) A little goes a very long way, so don't be shy!
Great on french fries, popcorn, mac & cheese, any style potato, salads, fish, vegetables, and pasta as well as finishing.
Ingredients: Sea salt, Italian Black truffle
Delish. Used it so far on just fries and the family loved it.
I :heart:️SCSC
I only order spices from SCSC, they have excellent quality products at reasonable prices and I love the hand written notes with every order.
Phenomenal!
Excellent! A couple of years ago, SCS was set up outside on Penn Ave and we bought the Black Truffle salt - AMAZING!!! Today I received my very well packaged delivery of Lemon Lime, Lavender Rosemary, Mesquite Smoked, Dill Pickle and Black Hawaiian. We already sampled them all and they are INCREDIBLE! (Black Truffle is still #1)!
The Best of All!
This is the absolute BEST truffle salt I've ever had. If you like the taste of truffles, you need to try this!