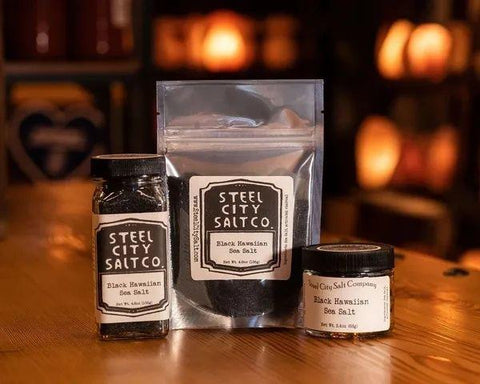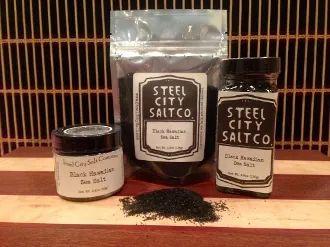 Steel City Salt Company
Black Hawaiian Sea Salt
Black Hawaiian Sea Salt also known as 'Black Lava Salt' is Sea Salt combined with activated charcoal which adds a silky smooth texture and vibrant black color.
Activated charcoal is known to have essential minerals that help remove impurities and maintain normal body functions. Because of the fine-grain nature of this beautiful salt, it has the ability to make any dish stand out and pop with perfect presentation and flavor! Also great for those watching their sodium intake because you can actually see how much salt you are using!
Use this stunningly vibrant salt on any dish! We recommend it for stir frys, barbeque, salads, soups, roasted vegetables, seafood, and for finishing. Also, amazing as a cocktail rimmer!…..Margaritas anyone?!?!?! :)
Ingredients: Sea salt, activated charcoal
Versatile!
Excellent! A couple of years ago, SCS was set up outside on Penn Ave and we bought the Black Truffle salt - AMAZING!!! Today I received my very well packaged delivery of Lemon Lime, Lavender Rosemary, Mesquite Smoked, Dill Pickle and Black Hawaiian. We already sampled them all and they are INCREDIBLE!
Creole Salt
We love, love, love all of your products. My husband grills out all summer and your salts and rubs are perfection!
Great seasoning
It's awesome for bbq and everything else!
Delish
This is a staple in our kitchen. We use it on so much. One of our favorites!!!!