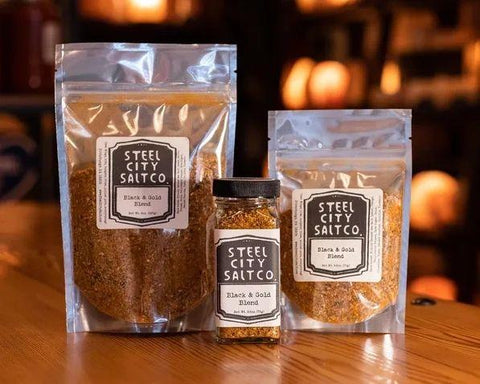 Steel City Salt Company
Black & Gold Blend®
As seen on the Today Show! 
Let's keep it Black & Gold!!!
This is our most famous blend and is definitely one of our most popular! Named after the colors of our home teams here in Pittsburgh, our Black & Gold Blend® is perfect on foods that you eat during games and with friends & family.
A smoky-sweet citrus pepper, this blend works well with anything you put it on and is considered our all purpose BBQ Blend! We use our Hickory Smoked Sea Salt as a base and hand-blend premium fresh ground spices that make this seasoning mouth-wateringly delicious! Whenever you have a party, cookout, or just eating regular meals, you need this awesome blend to turn on your food and make meals unforgettable.
Uses: Anything grilled or roasted; steak, porkchops, asparagus, wings, hamburgers, chicken, brisket, pork butt, corn on the cob...you name it! Also great on eggs, avocado, popcorn, stir-fry, in marinades.
Handmixed from: Hickory Smoked Sea Salt, Garlic, Lemon Peel, Orange Peel, Onion, Tellicherry Peppercorns, Cane Sugar, Smoked Paprika, Cumin, Turmeric, Spices.
I have given the Black
I have given the Black and Gold to several friends and they love it too. When I want to spice up a dish I use this. Love this Fred
Love it!
We use this on everything! It is our go to for grilling chicken and pork chops and we add it to grilled veggies, too!! Great flavors that don't take over but compliment the natural goodness. Love it!
A staple blend!
It's the perfect lemony pepper spice blend that I've tried and had been on the hunt for over the years. Everything is balanced and it doesn't fade when you cook with it or create anything with it. It's just delicious!
Always a staple and favorite!
Great blend and go-to for meats & veggies. Definitely recommend having this on hand.