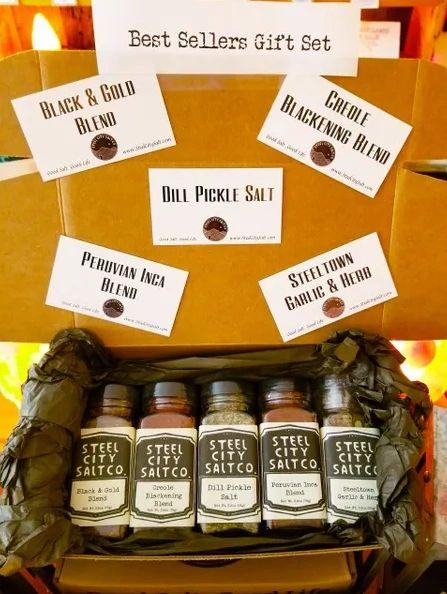 Steel City Salt Company
Best Sellers Gift Set
$49.95
$52.95
you save $3.00
All of your favorites in one, take the flavor to the next level with the BEST SELLERS GIFT BOX!!! Included in this box are our best sellers that are all made with love!
Black & Gold Blend : Definitely one of our most famous blends, named after the colors of our home teams here in Pittsburgh making this perfect on foods that you eat during gameday or everyday! Smoky-sweet with a touch of citrus, you can use this on just about any meat or vegetable making whatever you cook mouth-wateringly delicious!
Creole Blackening Blend : Inspired by our travels in the South, this is the best blend for blackening chicken, fish, and veggies! With lots of flavor and heat, you will fall in love the depth of flavor in this blend. Use with caution though, it can be very addicting!
To blacken: mix with melted butter & coat your favorite chicken, fish, or veggie and sear on very high heat...the flavor crust that forms will be outrageously tasty!
Dill Pickle Salt: Our famously Dilly salt blend that has taken our company by storm! Hand-mixed using Trapani Sicilian Sea Salt as a base with fresh ground spices and lots of dill, you will find yourself putting this on EVERYTHING!!!
Our favorite uses are on popcorn, fries, eggs, chicken, salmon, potatoes...or mix 1TB Dill Pickle Salt with 1cup Sour Cream or Yogurt to make the best chip and veggie dip!
Peruvian Inca Blend : During our travels to Peru, we learned how to make this fantastic blend! Using Peruvian Pink Salt as a base, lots of cumin, garlic, fresh ground spices, and the famous Peruvian Aji Amarillo Chili, the flavor profile is bold without being overpowering, you will end up using this blend on just about everything you make!
Try it on chicken (any type, any way cooked..trust us!), roasted veggies, rice, roasted potatoes, beans, tacos, in chili, and in classic Peruvian dishes such as Lomo Saltado, Aticuchos, & Pollo a la Brasa!
Steeltown Garlic & Herb Blend: Our #1 seller in the ENTIRE company! Pink Himalayan Salt is hand-mixed with lots of garlic, spices & herbs you cannot go wrong with this blend! Equipped with an adjustable grinder cap, you can adjust the setting to grind fine and coarse, when you run out the grinder comes off and you can refill.
This is the go-to blend for anything you make; eggs, steak, fries, pasta, in EVOO for dipping, baked chicken, seafood, asparagus...EVERYTHING!!!
Great Stu FD!
Just used the pierogi salt. AMAZING
Patties for my brother-in-law, who
Patties for my brother-in-law, who is a MasterChef! And he absolutely loves them!
I love it!
Obsessed with this! I use it on fries and fried fish, but have added it as a kick to roasted veggies and even to popcorn!
YUMM
One of my husbands new favorites!!! As always, wonderful product.
Shiver' ur timbers Matey there be Malt vinegar here!
A new and refreshing taste thats like going to Long John Silvers without having to go to Long John Silvers !