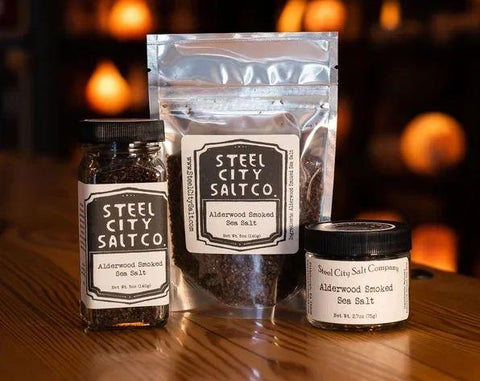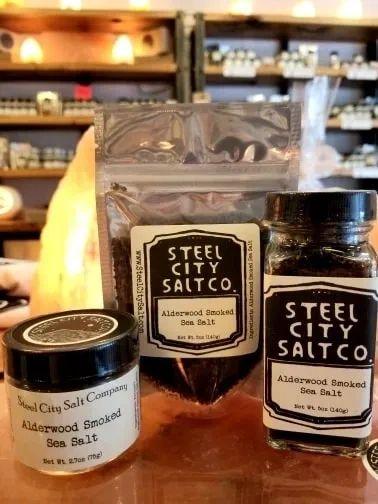 Steel City Salt Company
Alderwood Smoked Sea Salt
Alderwood Smoked Salt
Our first and most delicious smoked salt! Crunchy hand-harvested Sea Salt is slow smoked for 48 hours over natural Northwest Alderwood, giving an authentic and rich smoky flavor! Our smoked sea salt is a completely natural way to add real smoked flavor to anything without artificial colors, flavors, or additives. The grain size of this Smoked Salt is slightly coarse, just enough to give a nice crunch which will totally transform your favorite dishes!
Northwest Red Alderwood has been used to smoke salmon and other meats for hundreds of years starting with the Native Americans, making it a true Northwest tradition.
Use this fabulous smoked salt on fish, grilled meats, eggs, chocolates, sweets, atop peanut butter cookies, or anything you would love to add an authentic smoky flavor to!
Ingredients: Natural Alderwood Smoked Sea Salt
Made in the USA
I like the salt very
I like the salt very well
Smoked heaven
I love Steel City salts….order all the time from them. Surprised to get this review request as it's been a couple of months since I purchased there. Always ship on time, great product!
It's a Christmas gift, therefore,
It's a Christmas gift, therefore, they haven't tried it as of yet.
I love everything about Steel
I love everything about Steel City Salt. All of their products that I've purchased are amazing. I live I Portland, OR and friends from Pittsburgh sent me a gift several years ago. I'm totally hooked and reorder whenever I run out. Can't live without the Black Truffle Salt, Sriracha Salt or Love Everything Pittsburgh Salt. You won't regret it, I promise!