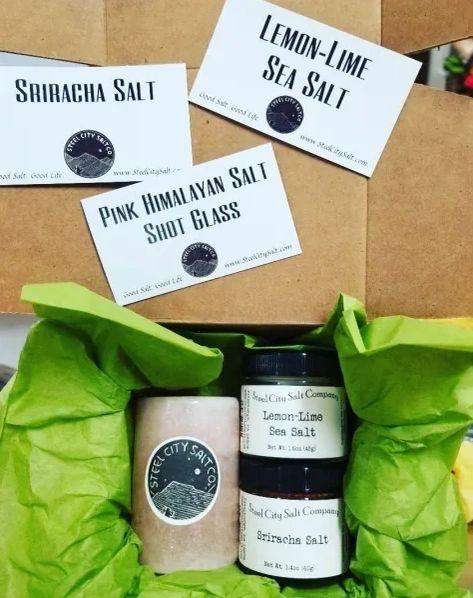 Steel City Salt Company
5 O'Clock Somewhere Gift Set
As the saying goes, it's 5 O'clock Somewhere! This gift box is one of our most popular, perfect for those that like to kick back and relax! With a Pink Himalayan Salt Shot Glass, Lemon Lime Sea Salt, and our Sriracha Salt along with info cards in a custom gift box with lime green tissue paper, the cocktail lover will find many uses with this set!
Pink Himalayan Salt Shot Glass: Mined deep within the Himalayan mountain range, pure Pink Himalayan Salt is carved and fashioned into an awesome shot glass!
Great for tequila, margaritas, and Mezcal, this shot glass will definitely bring the party to the next level!
We recommend freezing the shot glass, you get a cold shot which will impart just the right amount of salt and if you mix in a little lime...YUMMM!!!
To clean, wipe down with a damp towel and dry immediately, store in freezer (our recommendation but not necessary), do not hand wash or put under running water or your shot glass will disappear:)!
Remember, the longer liquid sits in the glass, the saltier it will get so be sure to take your shot right after you pour! After many uses, you will notice your shot glass getting smaller, no worries...because they are food grade, whenever you spring a leak the shot glass can be grated over food and used as a table salt!
Lemon Lime Sea Salt: Fresh Lemon and Lime infused with Sea Salt makes this the perfect cocktail rimmer! With a bold flavor profile, the citrus and salt come together so nicely your mouth will keep watering and your drinks will be amazing!
Uses: Rim margaritas, Bloody Mary's, and your favorite cocktails! Also great is used on popcorn, fish, chicken, & veggies.
 Ingredients: Sea Salt, Lime, Lemon
Sriracha Salt: Our first ever blend, this is the one that got us started and is still one of our top sellers! Sweet, tangy, salty, with a touch of heat, you will make the best cocktails with this fabulous sea salt!
Uses: Rim margaritas and your favorite cocktails for lots of flavor and a touch of heat! Works well on your favorite foods; eggs, veggies, chips, meats, and avocado!
Ingredients: Sea Salt, Sriracha Sauce