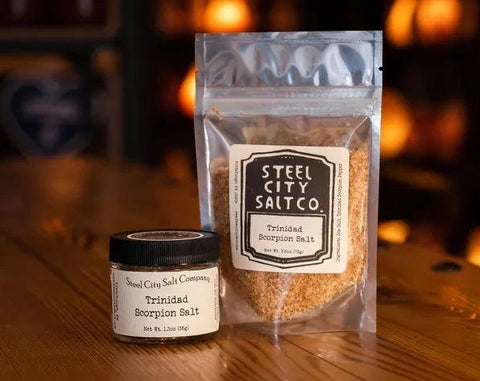 Steel City Salt Company
Trinidad Scorpion Salt
Hot Hot Hot!!!! Currently the 2nd hottest pepper in the world, the famous Trinidad Scorpion Pepper has great flavor and lots of heat.
Real Trinidad Scorpion Peppers are carefuly blended with Pacific Flake Salt, with a flavor profile that has a fruity flavor to start and deep heat to finish.....definitely for those that can't get enough heat, use sparingly!
Uses: Great as a tabletop salt to add on top of your favorite meals; eggs, steak, salads, chili, soups, stews, cocktails, popcorn, and anything you want that extra kick for!
Ingredients: Sea Salt, Trinidad Scorpion Pepper
Made in the USA