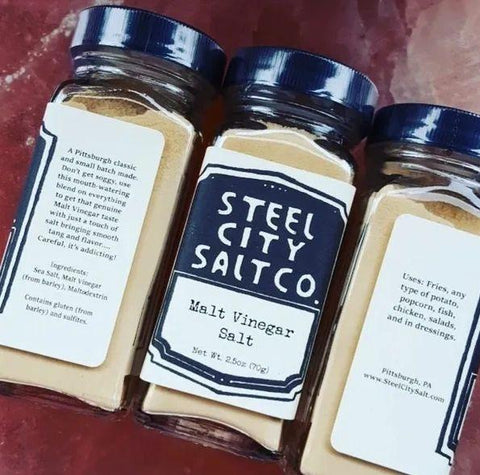 Steel City Salt Company
Malt Vinegar Salt
Don't get soggy, try out our signature Malt Vinegar Salt!
Handcrafted from pure Malt Vinegar and Pacific Sea Salt, this mix will definitely turn on your fish & chips! With unparalleled flavor, this sweet-tart-salty one-of-a-kind blend will be an awesome addition to anyones pantry.
Due to the nature and long process of making this Salt, we can only do a limited batch each month so stock up!
Use on: Any type of potatoes; fries, chips, roasted potato cubes, & hash browns. Also great on salads, fish, chicken, in marinades and dressings!
Ingedients: Malt Vinegar (from barley), Pacific Sea Salt, Maltodextrin Contains: Gluten (from barley) and sulfites