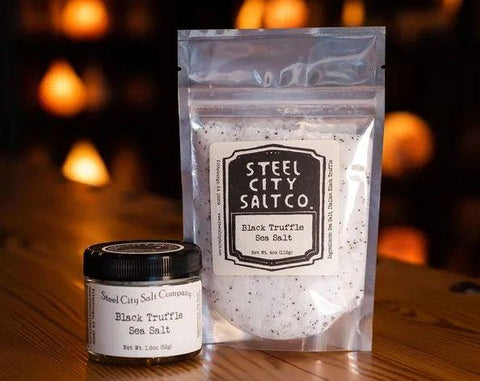 Steel City Salt Company
Black Truffle Sea Salt
OMG our Truffle Salt is AMAZING!!!
Definitely a household favorite, our all-natural Black Truffle Sea Salt combines the distinct and impeccable taste of Italian black truffles with hand-harvested Sea Salt to create an uncommonly super delicious flavor!
A creative cooks dream, our Black Truffle Sea Salt is used with the highest grade black truffles and adds a hint of earthy, mushroomy flavor to every dish. This is such an awesome salt, we always carry one with us when we eat out...the best to sprinkle on French fries:) A little goes a very long way, so don't be shy!
Great on french fries, popcorn, mac & cheese, any style potato, salads, fish, vegetables, and pasta as well as finishing.
Ingredients: Sea salt, Italian Black truffle