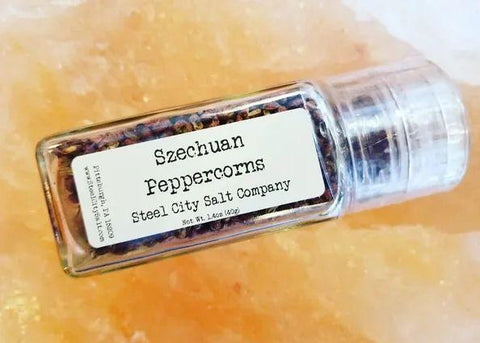 Steel City Salt Company
Szechuan Peppercorns
Szechuan Peppercorns are incredibly unique in that they are not related to black peppercorns or chili peppers at all but are a dried berry grown in Asia!
The flavor of Szechuan Peppercorns is mild and lemony that creates a slightly tingly sensation on the tongue and palate. Although they can be ground on your favorite meats and veggies, the most popular use is to toast in oil (sesame or ginger) to create the perfect stir fry or dipping sauce!
Use on your favorite meats, fish, chicken, or veggies, atop salads, rice, and starchy vegetables. Make and infused oil for dipping or stir-fry!
Grinder is adjustable, pull up for coarse, press down for fine.
Ingredients: Szechuan Peppercorns
*As with all herbs & spices, keep out of sunlight and heat, natural color may change or fade.