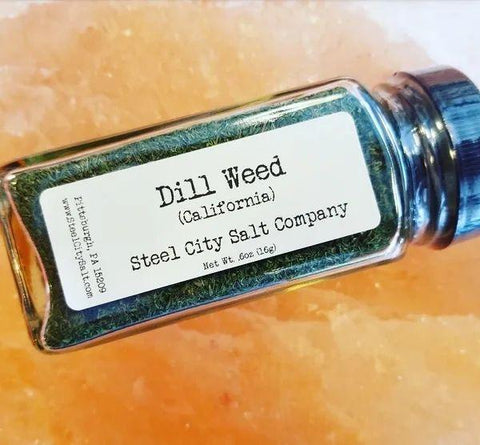 Steel City Salt Company
Dill Weed
Our Dill Weed is the finest domestically produced available coming from California!
Far superior to imported Dill Weed, the Californian variety contains a higher oil content along with a brilliant color making it a MUST for the Dill lover:)
Used in many dishes worldwide for exceptional flavor, this Dill is a base in our famous Dill Pickle Salt!
Uses: On salads and as a garnish, in soups, marinades, dips (yogurt, cream cheese, sour cream), salmon with butter, whitefish, sautéed chicken, roasted veggies, and lamb!
Ingredients: Dill Weed
Product of California, USA
*As with all herbs & freshly ground spices, keep out of sunlight and heat, natural color may change or fade.