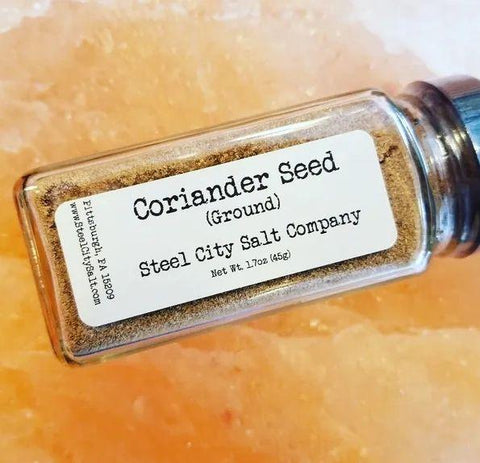 Steel City Salt Company
Coriander Seed Ground
Our Coriander is ground in small batches making it very potent with a slightly lemony flavor!
Used in a wide array of world cuisines including Latin American, Greek, Indian, and Middle Eastern, coriander makes a flavorful addition to your favorite rubs and marinades! It's so tasty, we use it in our award winning Black & Gold Blend:)
Use in your favorite rubs and marinades, on chicken, pot roasts, curries, seafood, roasted veggies, and on BBQ'd meats.
Ingredients: Ground Coriander Seeds
*As with all herbs & freshly ground spices, keep out of sunlight and heat, natural color may change or fade.
Awesome
I love this salt. My mom in law tried it and now I have to buy more... :)
Lavender-Rosemary Sea Salt
The smell alone will get your mouth watering. Wait til you taste it on a grilled-cheese sandwich. Steel City Salt products will be part of every Christmas present I give this year. So happy I stumbled on the the table while cruising the strip in March during a birthday visit with my daughter.
Love this!
I used this for salted caramel shortbread cookies and it's HEAVENLY!