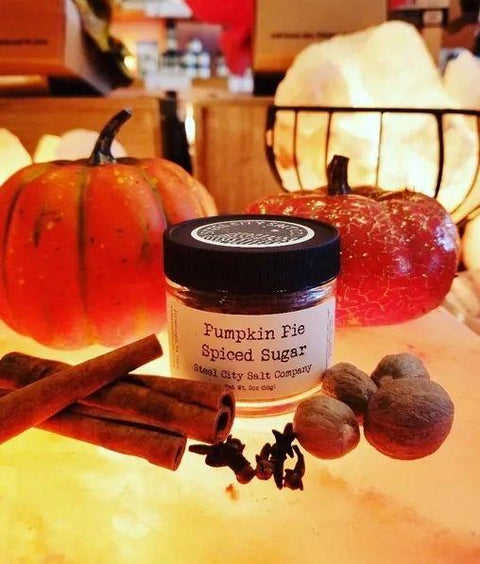 Steel City Salt Company
Pumpkin Pie Spiced Sugar
$5.95
$6.95
you save $1.00
As seen on the Today Show! 
Pumpkin Pie Sugar is one of our creations that is supposed to be seasonal....but it is soooooo darn good we made it a regular item and it is HERE TO STAY!!!!!
Sweet & crunchy with lots of depth and flavor, this takes the classic Pumpkin Pie Spice to a whole new level:)
Using beautifully textured organic cane sugar as a base, we infuse and hand mix with our top-of-the-line fresh ground Vietnamese Cinnamon, Nutmeg, Ginger, and Clove giving this sugar blend a TON of flavor, a little goes a LONG way!
We make this in limited batches so be sure to order up before we run out!!!
 Uses: We LOVE this sugar in coffee, hot chocolate, and cider...top your whipped cream with this tasty sugar as well as on your favorite beverages or desserts! Also works really well on popcorn, brownies, cookies, ice cream, cakes, cinnamon rolls, and on top of toast YUMMM😊 Use your imagination on this one and put it on everything!
Ingredients: Organic cane sugar, Vietnamese Cinnamon, Nutmeg, Ginger, Clove
WOW this is tasty!
The flavor of this sugar is spot on!!! Can;t have my morning coffee without it, I'm happy its available year round:)
Use this on everything and
Use this on everything and have for many years! I have even given it as gifts. Love it.
So good on coffee, adult
So good on coffee, adult beverages, or on top of some dessert!