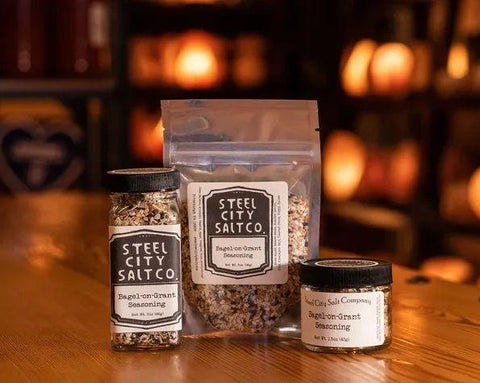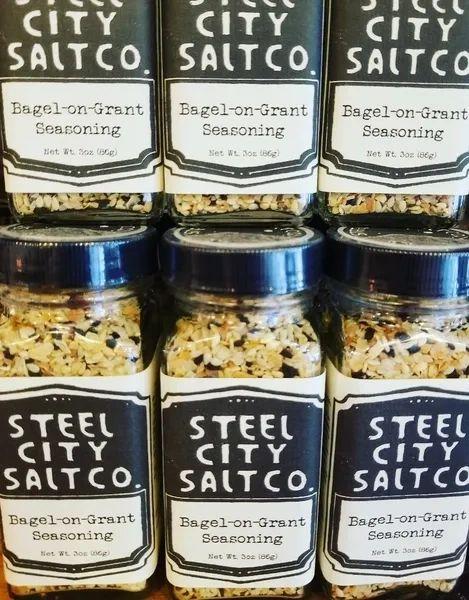 Steel City Salt Company
Bagel on Grant Seasoning
After so many requests and months of R&D to get everything super tasty and just-right, we are so happy to introduce our Bagel on Grant Seasoning!
Made at our shop on Grant Avenue in Pittsburgh, we took the classic Bagel Blend and added our touch to take it to the next level!
Using crunchy Pink Himalayan Salt as a base along with three types of Sesame, Fresh roasted garlic & onion, toasted spices, poppy, and lots of love, we know you will LOVE this blend and have found that you will take it everywhere you go!!!
Uses: Salmon, avocado, eggs any way (scrambled, fried, hard-boiled), atop stir-fry & poke bowls, salads, roasted veggies, chicken, on pretzels, crackers, as a steak rub, in a dip dip (YUM), Bloody Mary rimmer, on ANYTHING with cream cheese, sushi, and of course bagels & breads...use on EVERYTHING:)
Ingredients: Sesame Seeds, Roasted Garlic, Pink Himalayan Salt, Toasted Onion, Poppy Seeds, Spices