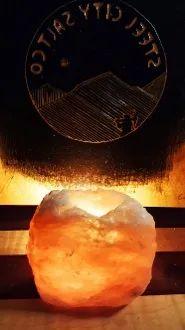 Steel City Salt Company
Pink Himalayan Salt Candle Holders
Our beautiful Pink Himalayan Candle Holders fit a tealight perfectly and give a soothing orange-glow when lit.
Acting as a negative-ion generator, when lit these candle holders cleanse & purify the air. Great for mood lighting and adding that natural touch to a bedroom, meditation spot, living room, and den!
*No two Candle Holders are alike with each having unique color from dark red to white. Steel City Salt Company is not responsible for damages, injury, or loss due to any use of our Pink Himalayan Salt Candle Holders.
Please use with caution and remember to always burn candle within sight. Keep away from children, pets, and anything that can catch fire. Never leave burning candle unattended!