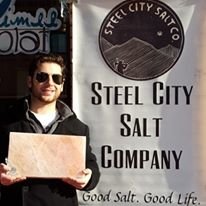 Visit our Facebook and Instagram for daily salt adventures & updates! 

Steel City Salt Company was launched as a small family business in 2014 bringing on a new era of flavor and cooking to Pittsburgh and the surrounding regions. Started by avid cook, pizzaiolo, and spice guru John Tarallo wanting to change the way people thought about not only food, but salt too! Cooking great food with quality ingredients is the first step to a healthier body and better world.
With his interest in cooking and unusual ingredients, John set out to find the most unique salts from around the world. From flaky to fine, moist to dry, he only chooses the best-of-the-best from each region. Another aspect of the company where we truly shine is our small batch blends, infusions, and fresh ground spices. We offer a wide variety of smoked salts, spicy salts, truffle saturated, malt vinegar infused, and many other salt-based blends while also working with whole & fresh ground spices, sugars, and so much more! As a family business we learned early on that the key is quality and exceptional customer service. All of our blends, packaging, and orders are all hand-filled in order to maintain freshness, integrity, and quality.  When you do what you love, anything is possible so we are always experimenting and coming up with new flavors and in keeping with exceptional service!
With exponential growth over the last few years along with the opening of our new HQ and Storefront in Millvale, we are always creating and expanding our selection, proudly offering our salts, blends, spices, & sugars directly to you. You can also find our products in hundreds of retailers, makers, collaborators, and restaurants nationwide! 
Let us know what we can do for you and always remember to use salt!
Our NEW Storefront and HQ is now open at
206 Grant Ave, Millvale PA 15209 Map is Here!

Our store is OPEN for walk-in shopping and local pickup:
Mon-Tues-CLOSED
Wed-Fri 10am-5pm
Sat 10am-6pm
 Sun 11am-4pm 
Phone: 412-407-9271
Email: Info@SteelCitySalt.com for faster response
Our original location is in the Strip District on 21st and Penn (alongside Mon Aimee Chocolat ) Map is Here!
*Our Strip location is now OPEN for the Season!!!
Strip District Hours (Spring-Christmas):
Sat 9am-3pm
Sun 9am-2pm
*Because we are set up outside and due to the nature of our product, we are CLOSED if there is a threat of and/or during inclement rain, wind, and snow as well as for temperatures below freezing. If you're unsure please don't hesitate to contact us! Also, we always update on our Facebook any time we have an unforeseeable closure due to weather or private tastings/events that we hold!
Enjoy!